Not quite sure how to tell the difference between a trumpet or a mermaid silhouette? You're not alone! Brush up on the most popular wedding dress silhouettes right here.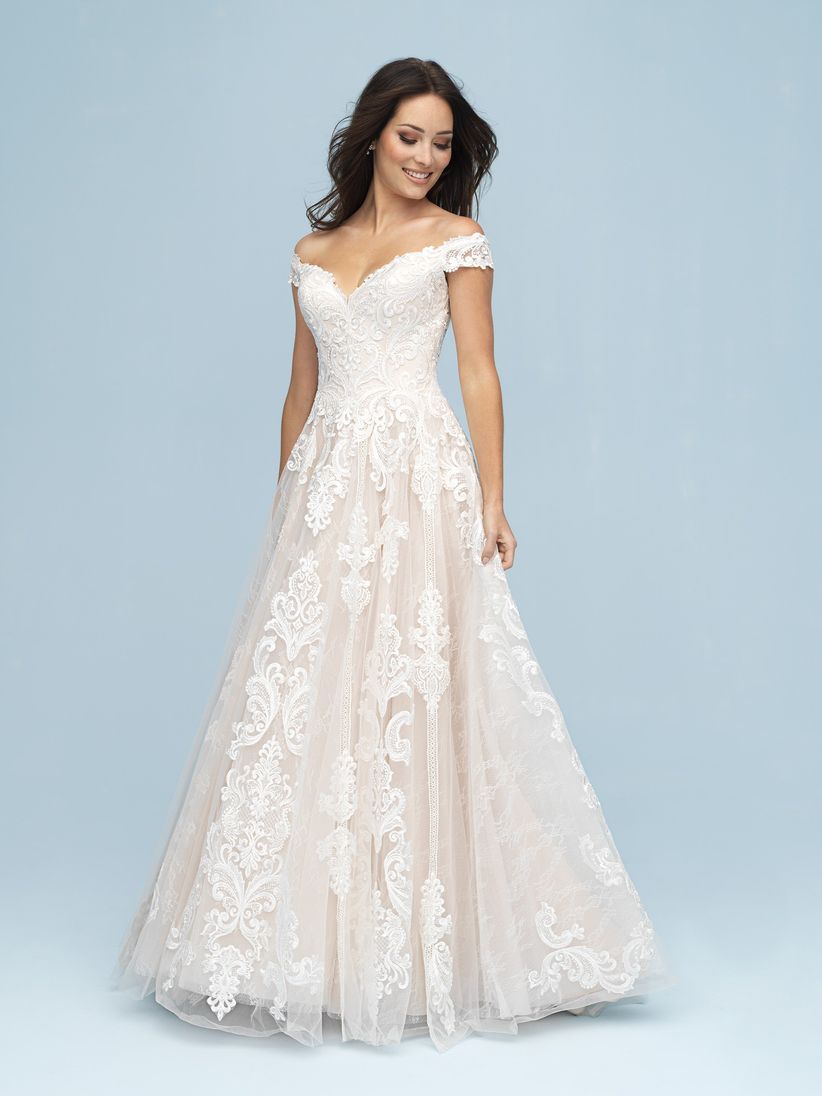 During your bridal appointment, one of the first questions you'll be asked by the stylist is what type of wedding dress silhouette you'd like to wear. You might already have an idea of how you want your dress to look — Flowy? Fitted? A little bit of both? — but knowing exactly how to describe your dream gown will come in handy as you're working with your stylist to find The One. Using gowns from Wedding Dzine, we've created this guide explaining the differences between five popular wedding dress silhouettes that you'll definitely want to know about. And while we recommend trying on more than just one type of silhouette during your bridal appointments, this guide will help you put your dream dress into words (or help you narrow down your options if you're still on the fence).
Here are five must-know wedding dress silhouettes.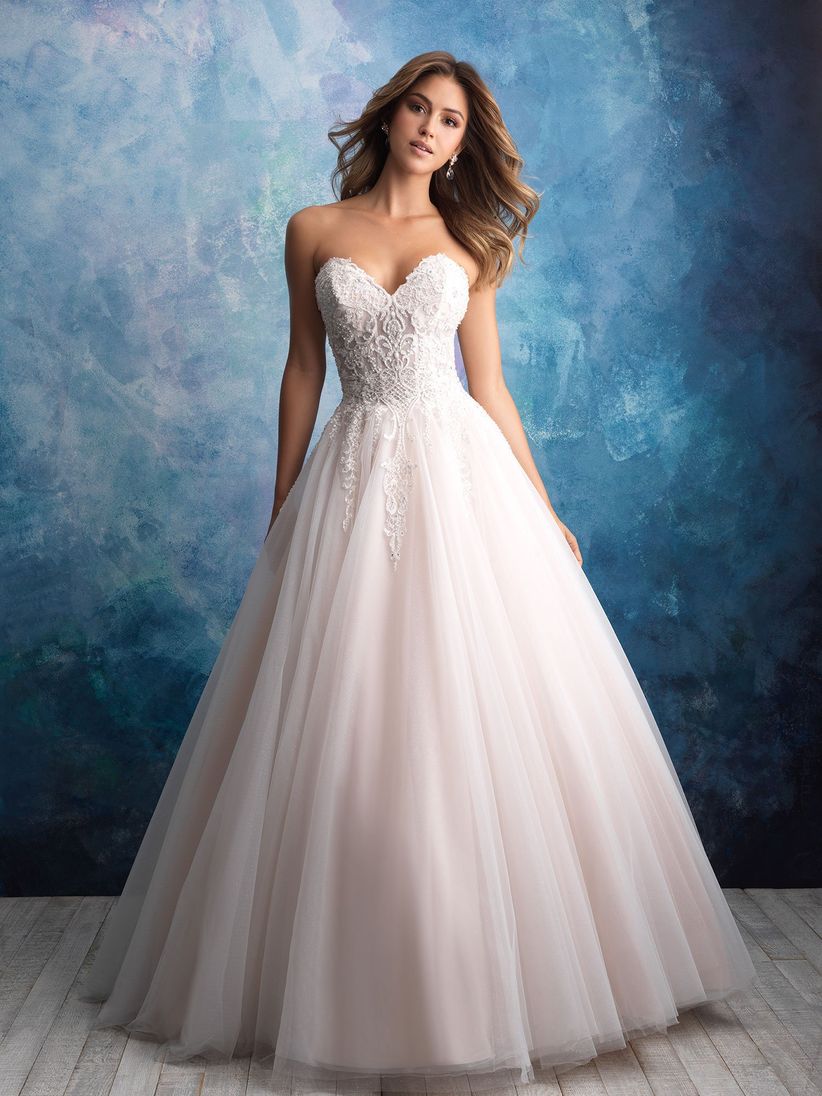 Ball gown
If you've ever dreamed of having your own fairytale moment, then this is the silhouette for you. Ball gowns are one of the most classic wedding dress silhouettes and will instantly give you the Cinderella effect on the big day. A ball gown features a fitted bodice (sometimes with a corset) with a wide, full skirt, most often achieved by using crinolines or layers of tulle, like this romantic champagne and ivory gown. Since the full skirt glides over your hips and lower torso, this silhouette is great for brides who want to cinch in their waist. The ball gown is one of the most regal silhouettes — the Duchess of Cambridge, Grace Kelly, Jackie O, and Princess Diana all wore ball gowns for their weddings.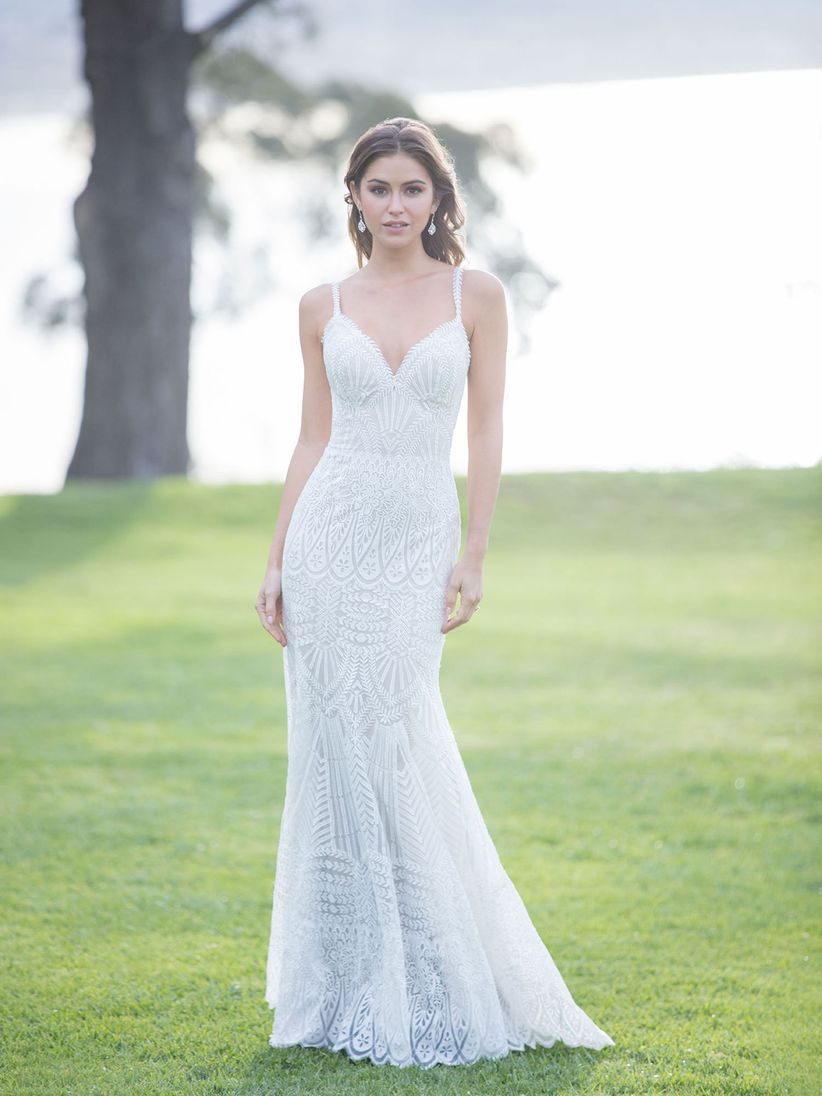 Sheath
A sheath wedding dress skims the body and falls straight to the floor below the hips. This wedding dress silhouette is perfect for brides who want an effortless gown, since it requires less fabric than other silhouettes (and is therefore very easy to move around in!). What a sheath wedding dress lacks in volume, it makes up for with its versatility — the sheath silhouette works well with nearly every type of fabric, from beading, lace, satin, and even crepe. Sheath wedding dresses are a flattering option for slim figures and petite brides who don't want to be overpowered by their gowns. We especially love this silhouette with v-necklines and spaghetti straps, as demonstrated by this geometric lace dress.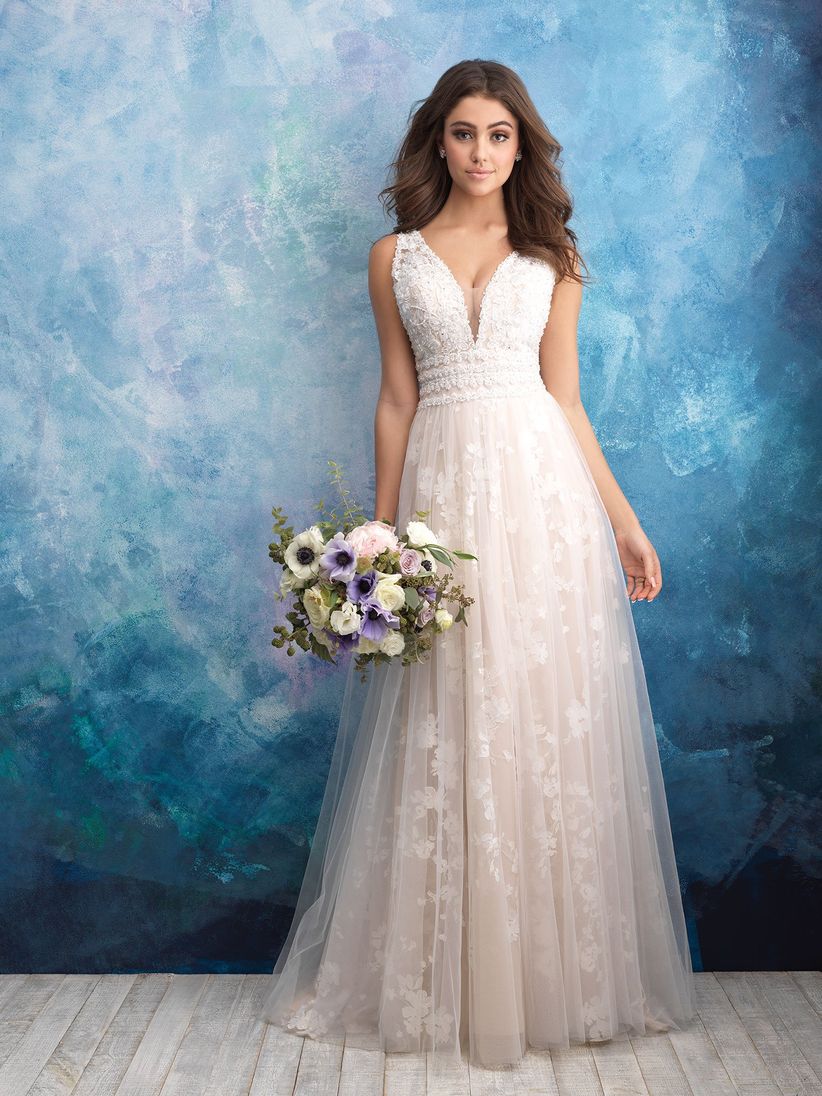 A-line
Consider the A-line as a halfway point between sheath and ball gown silhouettes. An A-line skirt, which is named for the way it creates an "A" shape on the body, flares out from the waist more than you'd see on a sheath gown, but not as dramatically as the ball gown. This universally-flattering silhouette is ideal for all styles, whether your wedding is bohemian, classic, beachy, or something in between. A-line wedding dresses often feature organza, lace, or tulle — like this romantic sleeveless gown but you'll also see them made from structured fabrics, such as Mikado.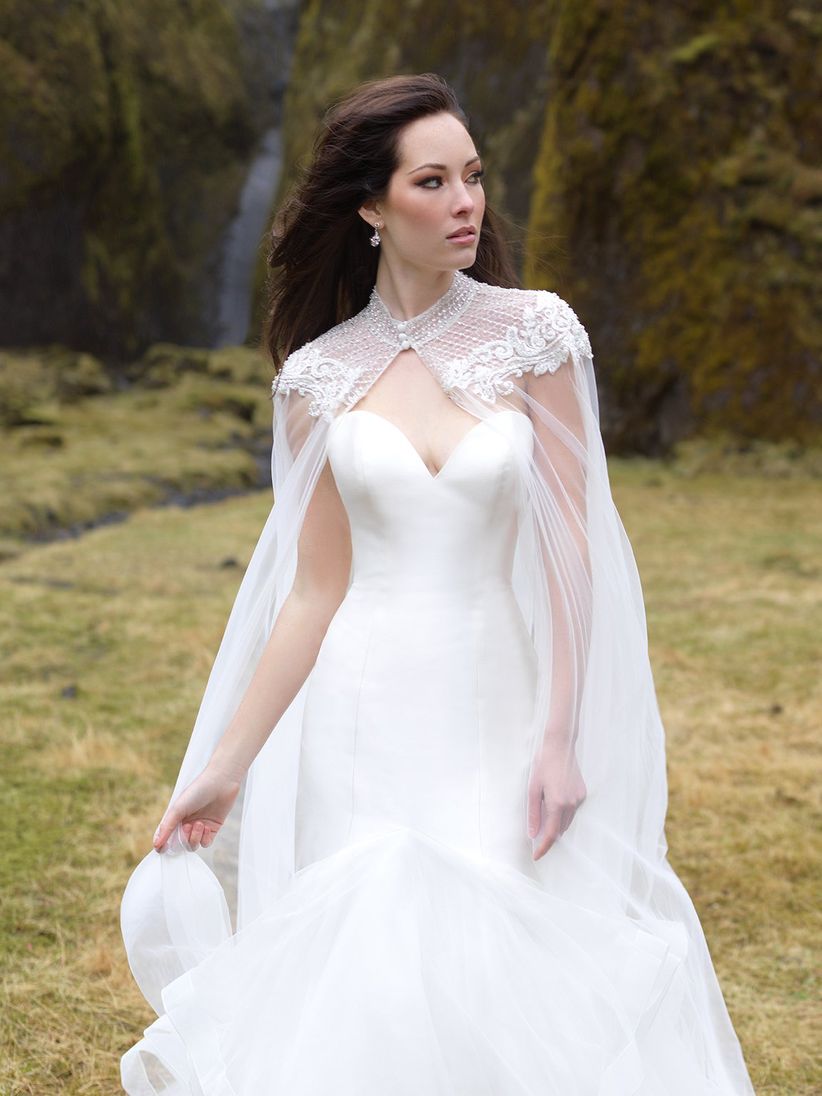 Mermaid
Va-va-voom. The mermaid is known for being one of the most flirtatious wedding dress silhouettes, since it's extremely fitted throughout the bodice, waist, and hips. In other words, if you want Beyoncé-worthy curves for your wedding day, look no further! A mermaid gown will either accentuate what your mama gave you or create the illusion of an hourglass shape for brides with slimmer figures. This attention-grabbing silhouette flares out at the knees and is often paired with beading, ruching, or ruffled skirts for added wow factor. Another option? Opt for an unblemished satin mermaid gown like this one and then add a bridal cape to achieve a fashion-forward look.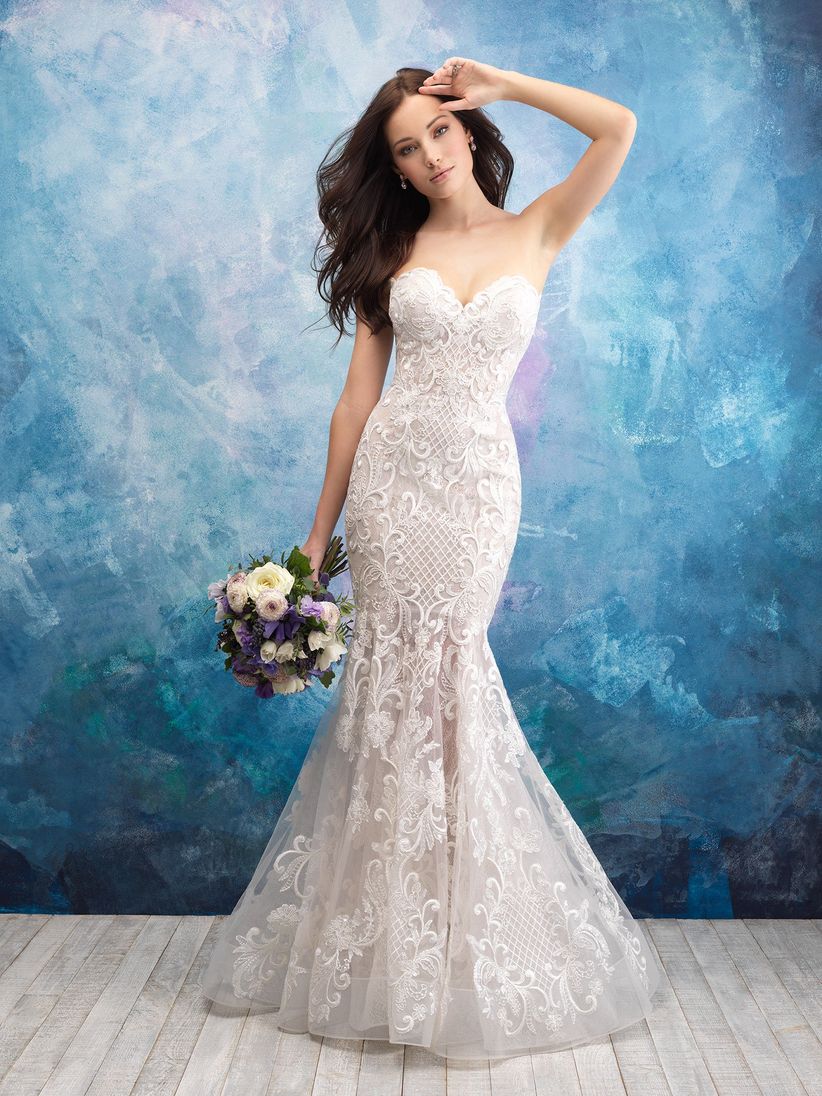 Fit and flare
Brides who want to show off their figure without committing to the dramatic mermaid silhouette should consider a fit and flare wedding dress instead. This toned-down version still hugs your body through the chest and waist, while being a little more forgiving through the hips, derriere, and thighs. The skirt flares out above the knee, giving you a little bit more freedom with your legs. Fit and flare gowns are perfect for brides who want to let loose on the dance floor! This wedding dress silhouette looks incredible when paired with a sweetheart neckline, as pictured on this mixed-lace design