You've found the perfect wedding dress and now it's time to accessorize. Get organized with this list of bridal accessories you will need for the big day.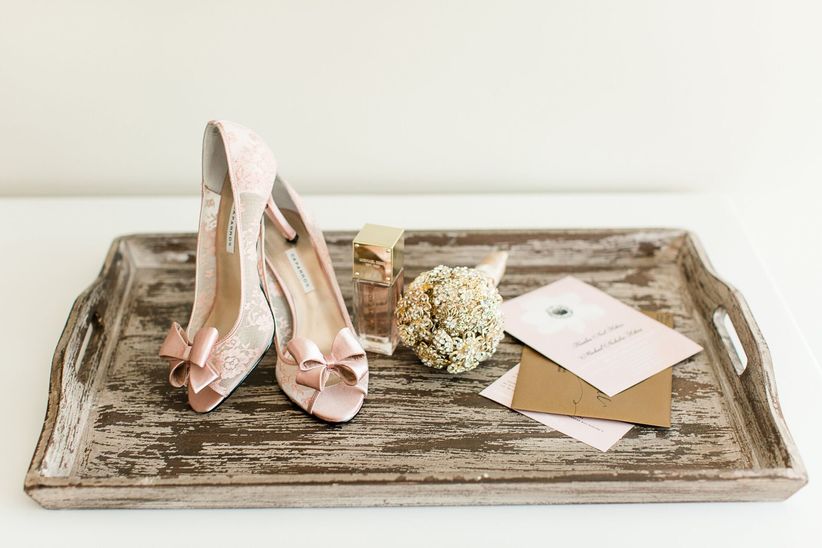 If you've recently said yes to the dress, you're probably ready to put up your feet (perhaps with your beverage of choice) and take a bit of a break from shopping. We certainly encourage you to do so, but not for long—it's time to look for your bridal accessories! From shoes to jewelry to undergarments, there are actually quite a few bridal accessories to investigate.
Here are nine things you'll need on your bridal accessories list, along with some options you can buy right now!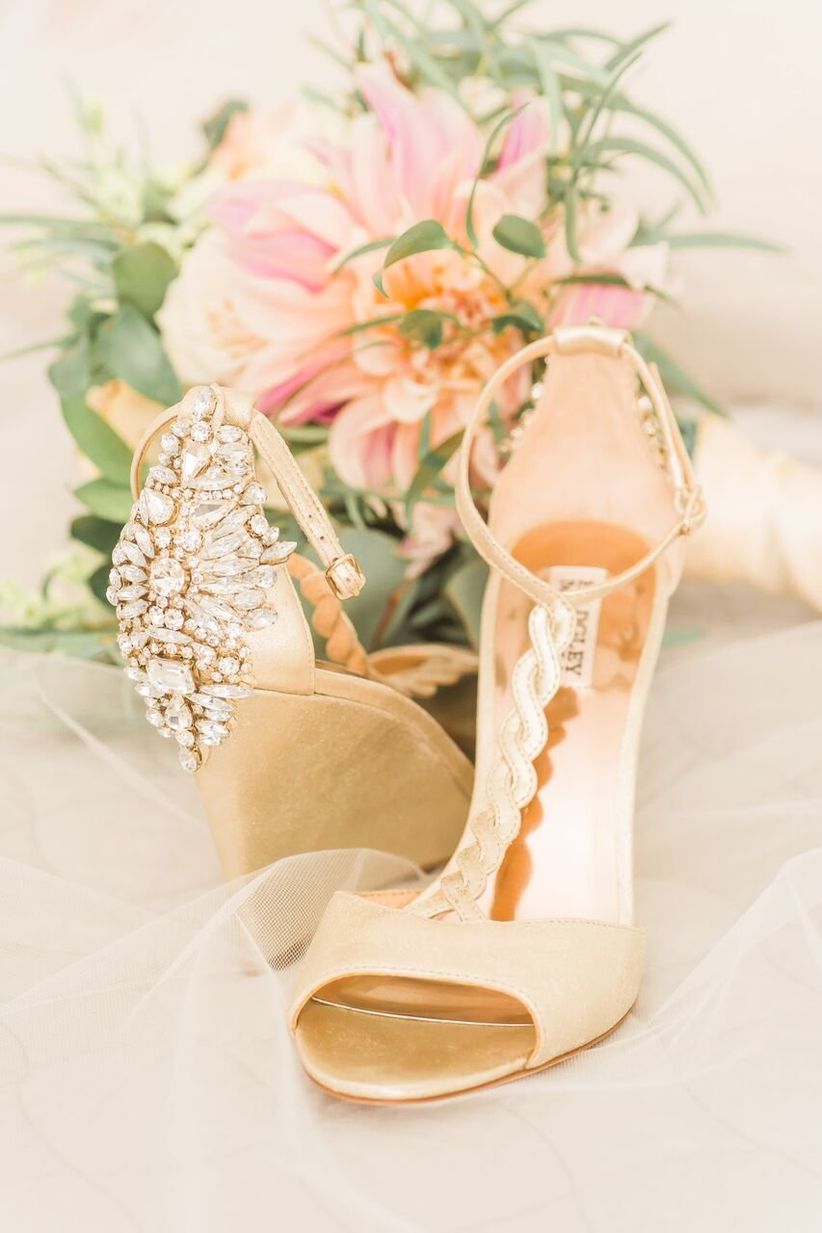 Wedding Shoes
Whether you want sky-high heels or comfy flats, you'll need to select your wedding shoes before your first dress fitting so that your gown can be hemmed perfectly. When selecting your wedding shoes, consider your comfort, of course, but also your wedding venue and style. For example, if you'll be outdoors on grass in the sand for most of your wedding day, stiletto heels likely won't be comfortable or appropriate—stick with wedges, sandals, or flats instead.
If you're looking to go sky high on your big day, we love these sheer pumps. Featuring a smattering of sequins and crystals and a four-inch heel, these shoes are ideal for a feminine and glam bridal accessory.
Getting married outside? Then skip the stilettos and try a sensible wedge, which won't sink into the ground as you make the rounds on your big day.
Many brides see their shoes as an opportunity to add a pop of color to their wedding-day look.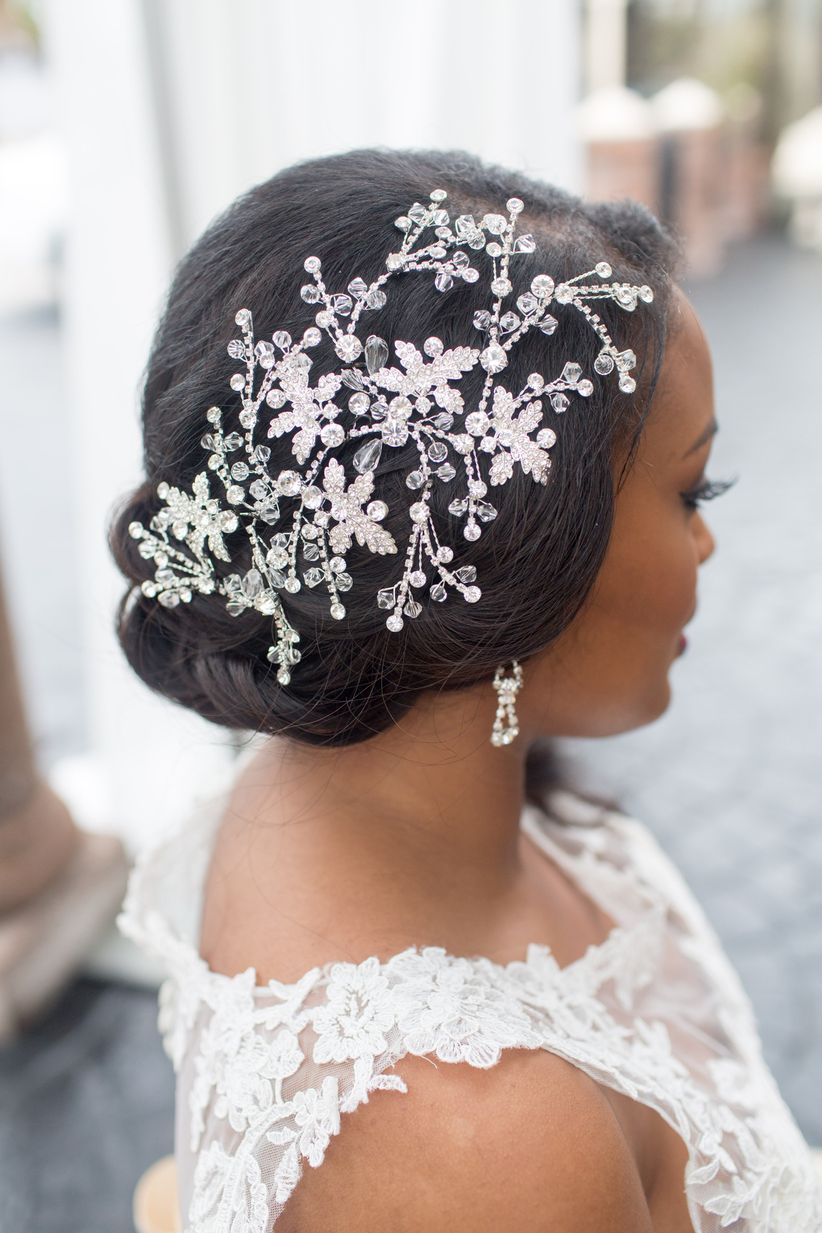 You have a lot of options when it comes to how you should wear your hair—up, down, or in between. You'll also need to decide if you'll wear any hair accessories. Of course, there's the traditional veil. From a super-long cathedral-length veil to a mid-length fingertip veil, or a short birdcage veil or blusher, there are lots of veil options to choose from. Remember, though—you don't have to wear a veil to look or feel bridal.
If you choose to go sans veil, there are lots of other options to choose from. It's all about figuring out what will look best with your dress and will complement the feel of your wedding day. Flowers make a natural hair accessory, whether you choose a single blossom or a boho-chic flower crown. Your can wear fresh flowers in your hair (ask your florist for help with this!) or if you're worried about the blooms wilting, opt for fake flower accessories. There are also more glam hair accessories, like crystal headbands, hairpins, tiaras, clips, combs, barrettes, or bun wraps. And for a vintage touch, opt for a fascinator or even a hairstyle with feathers!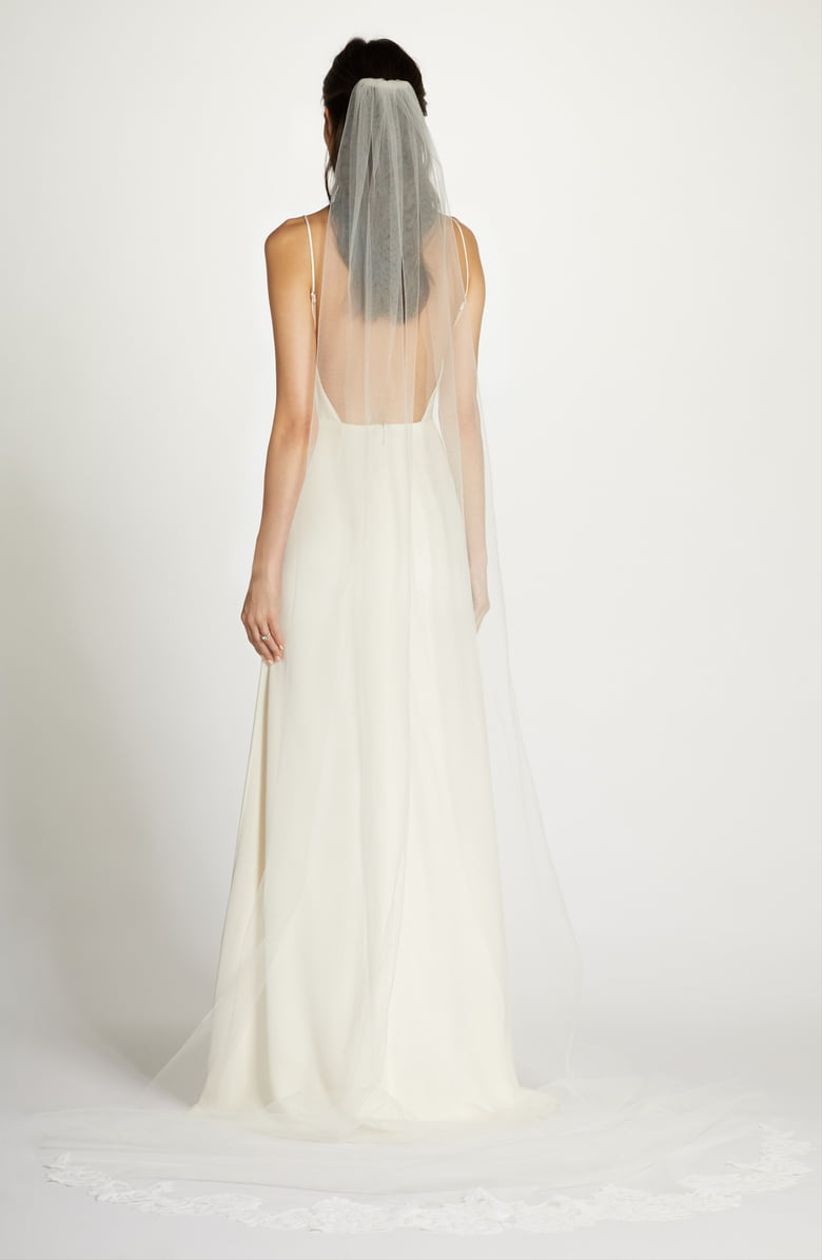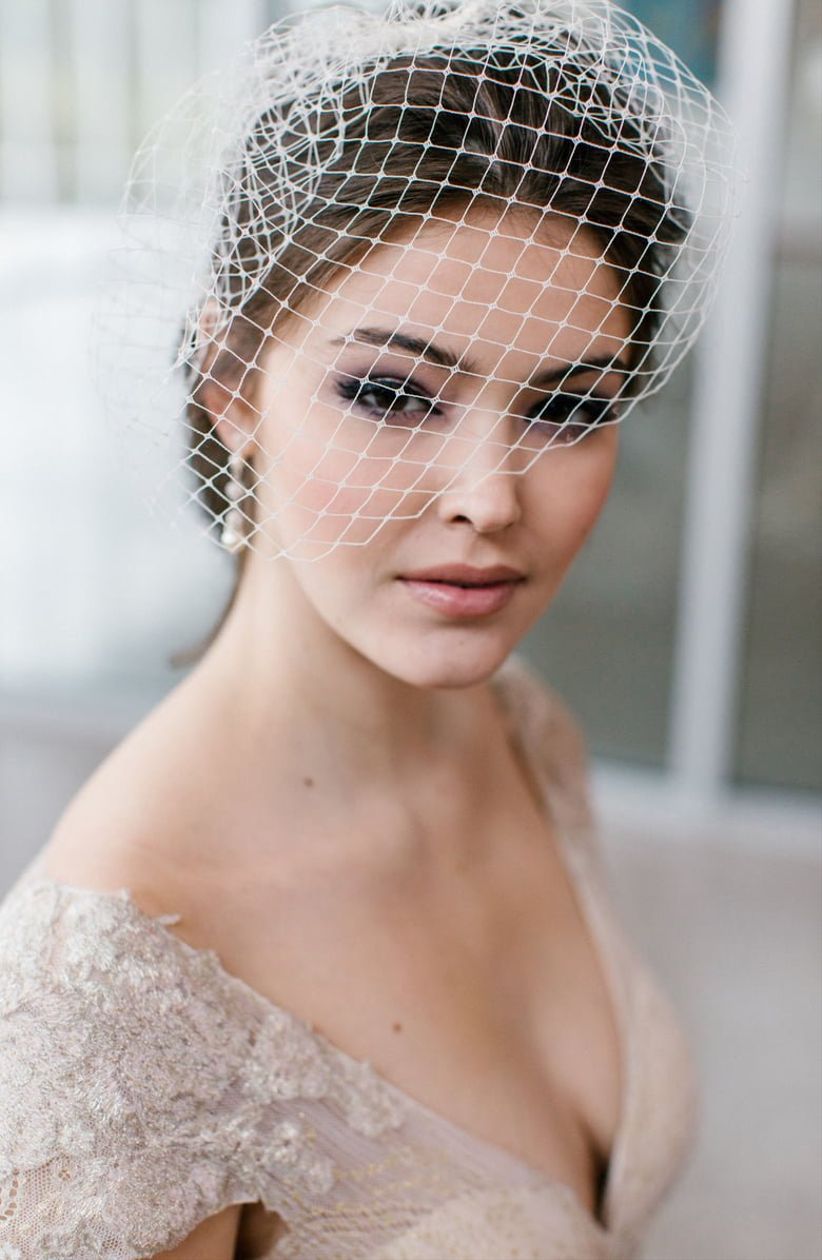 Brides getting married in a classic setting, like a house of worship, may opt for an elegant long veil to complement their wedding-day look. The most traditional of bridal accessories, veils come in a variety of lengths. This chapel-length veil features feminine lace trim.
If you're opting for a vintage-inspired wedding-day look, your bridal accessories should follow suit. This tulle birdcage veil beautifully frames the face in glamorous style.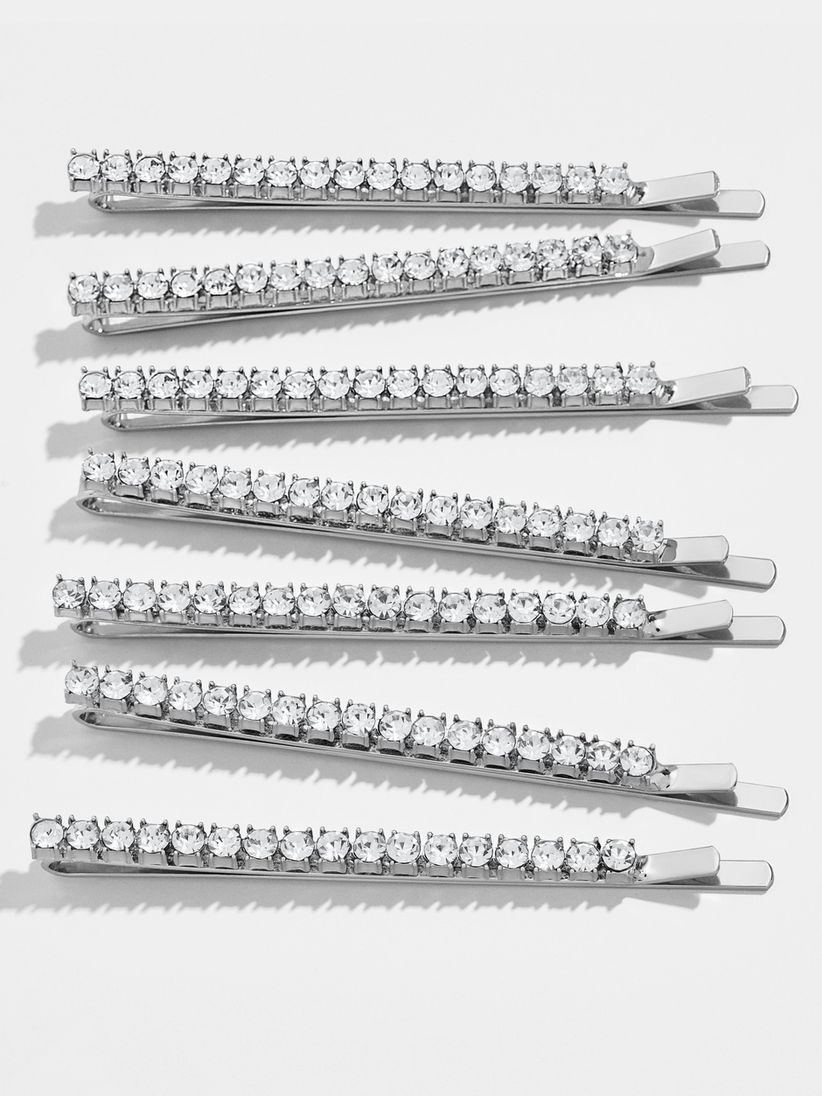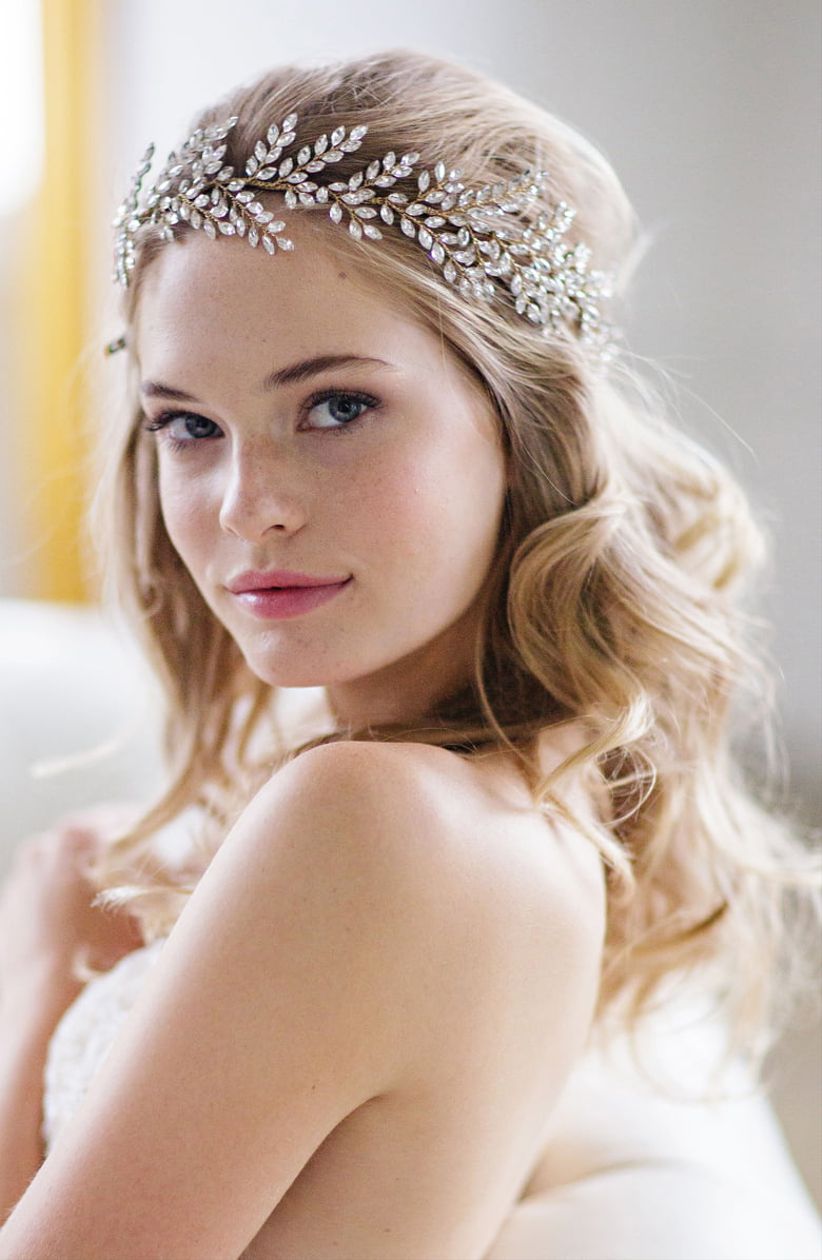 Add a touch of sparkle to your wedding hairstyle with this vintage-inspired crystal comb. This comb is a great way to highlight a gorgeous updo.
Looks inspired by the '90s are so in right now, and these barrettes definitely fit the trend. Add one barrette for just a hint of bling, or go all out with a series of sparkly hairgrips.
If you're wearing a more minimalist gown, you might choose statement accessories to add some glam. This crystal headband, or halo, has a Grecian-inspired vibe that would look gorgeous at a beach or garden event.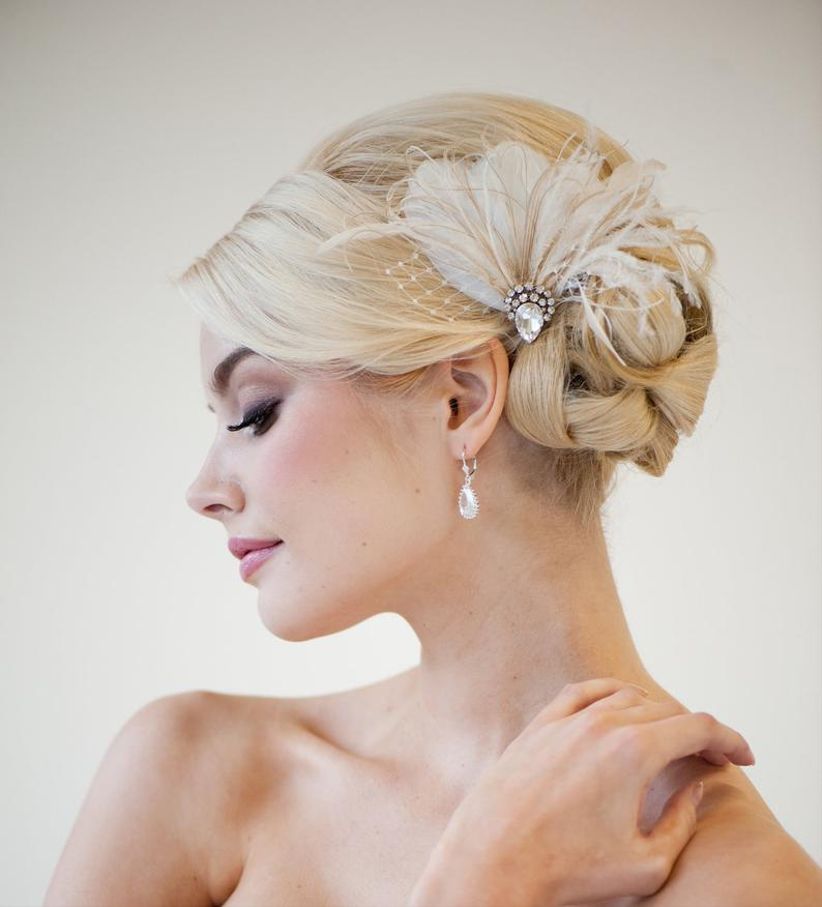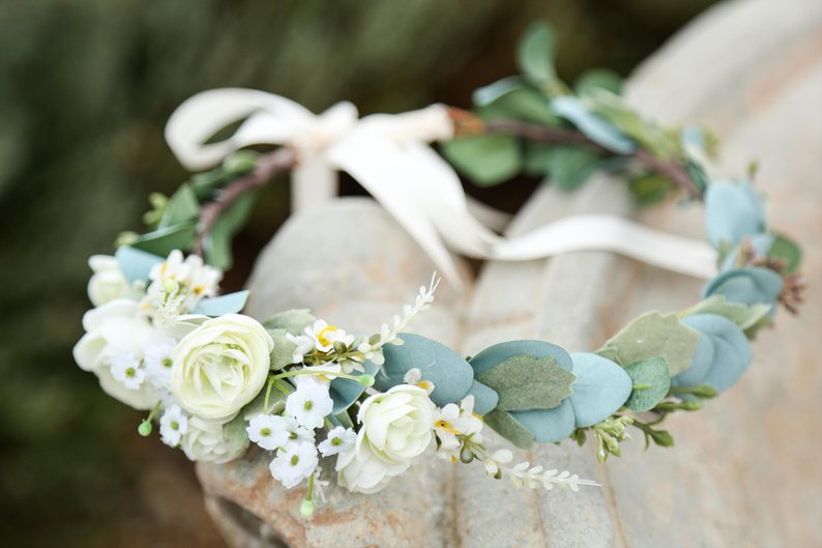 There's something so ethereal and romantic about a bride wearing a flower crown. You could ask your florist to create a crown of fresh flowers for your wedding day, or purchase a crown fashioned of faux flowers and greenery, which you can keep for a lifetime.
We love the whimsical and vintage vibes of a feather fascinator. If you're wearing a classic long veil for your ceremony, we recommend switching into a lively feather bridal accessory like this one for a fun reception look.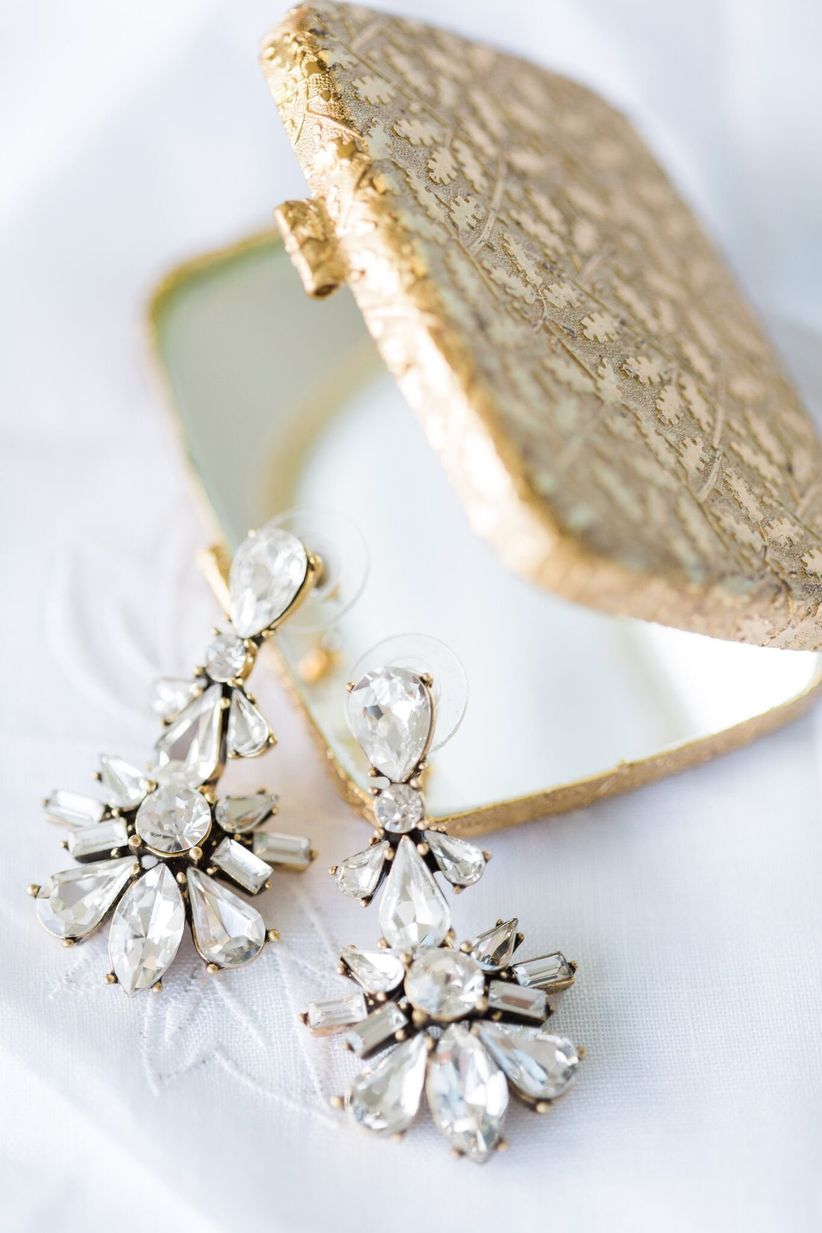 Bridal Jewelry
The most obvious bridal accessories you'll wear on your wedding day are your engagement ring and wedding band. But in terms of additional jewelry, it's up to you to decide what looks best with your dress. For example, a necklace can look great with a strapless neckline, but might not work well with a detailed illusion neckline. Our best advice is to avoid going overboard with the jewelry: one or two carefully chosen pieces is likely all you'll need to shine.
These cluster earrings are modern and glamorous at once, without being too overdone. They're so pretty and versatile, you'll definitely be able to wear them even after your big day!
Many brides choose to wear a classic strand of pearls on their wedding day. If you're looking for a more contemporary and casual option, choose this statement necklace, featuring freshwater pearls.
Don't forget to adorn your wrist with a little sparkle on your special day. This cubic zirconia bracelet is oh-so pretty.
Undergarments
Once you've selected your wedding gown, talk to your bridal salon about the undergarments they think would look best with your gown—and if any support can be built in. You may need to purchase shapewear, a specific type of bra, or seamless underwear to ensure your gown looks picture-perfect and your undergarments stay invisible. It's a good idea to bring your wedding undergarments to your first dress fitting to ensure everything looks right.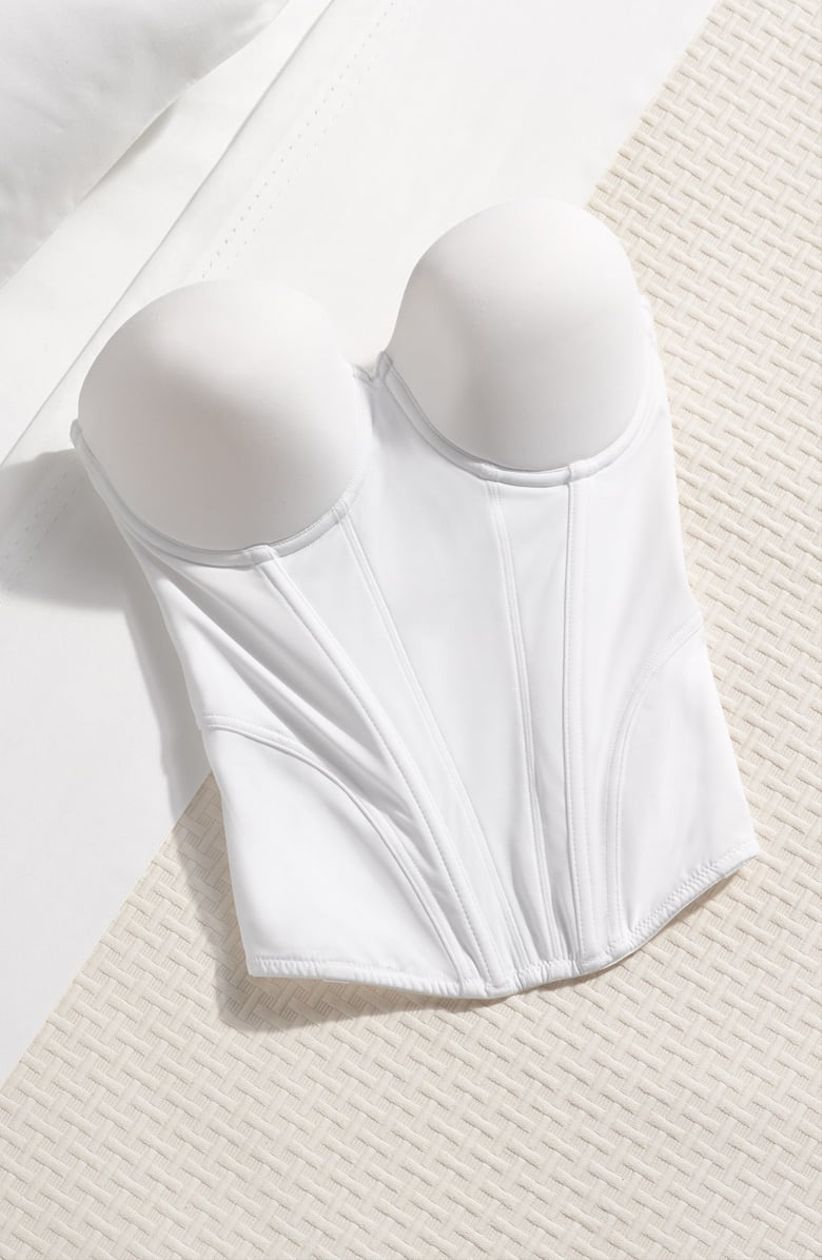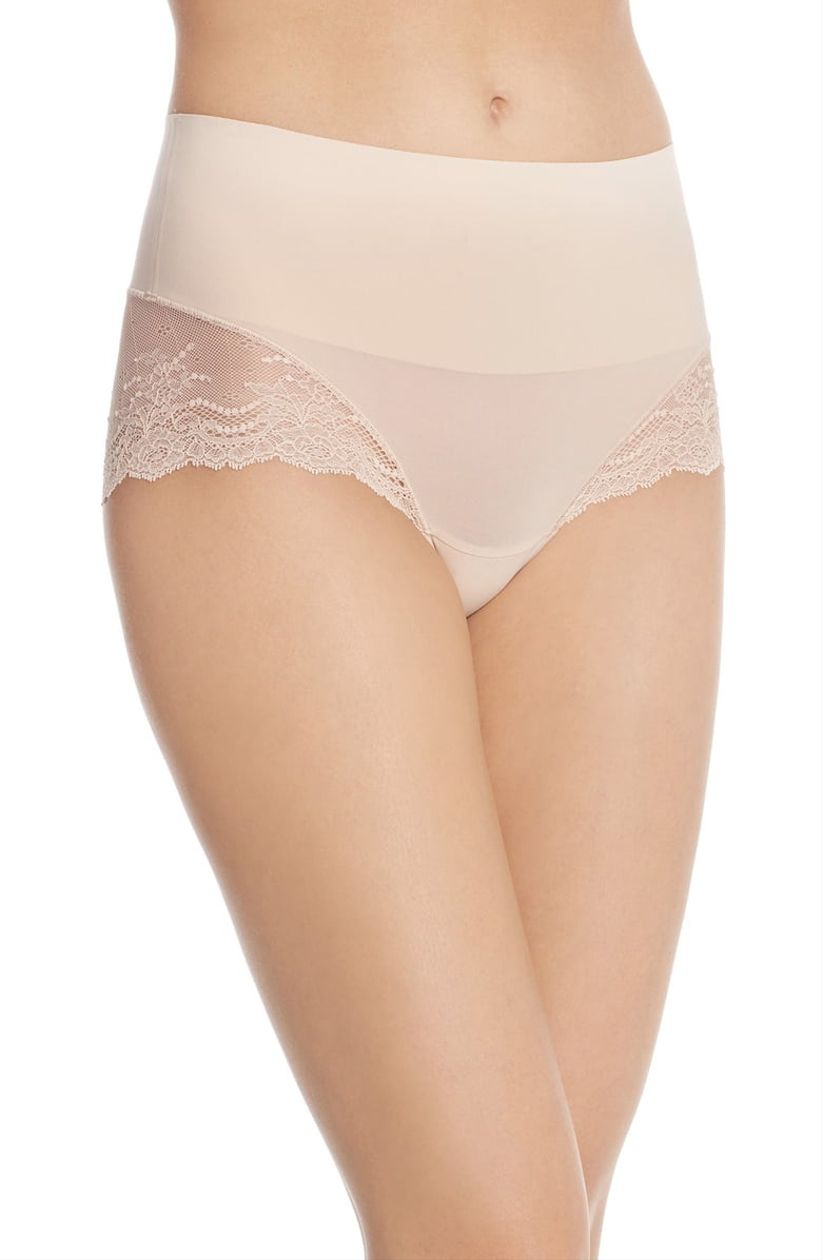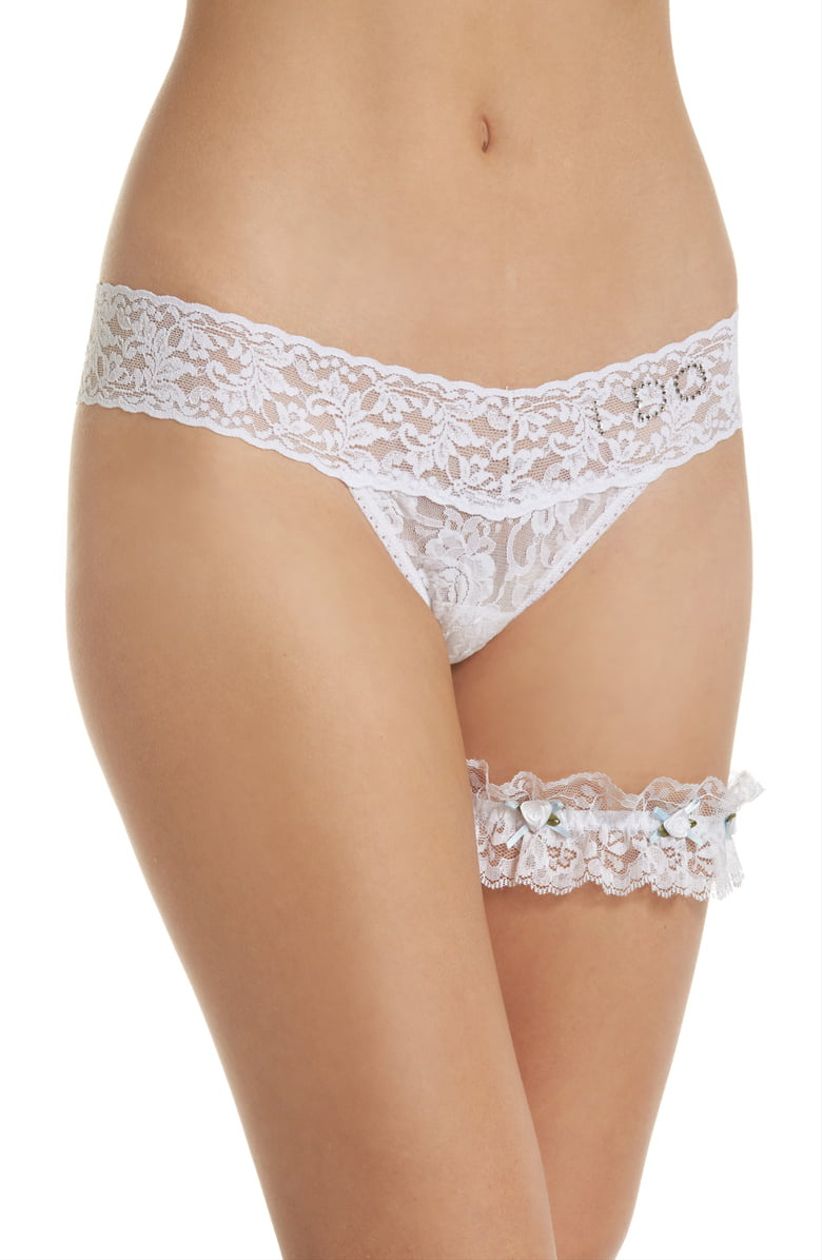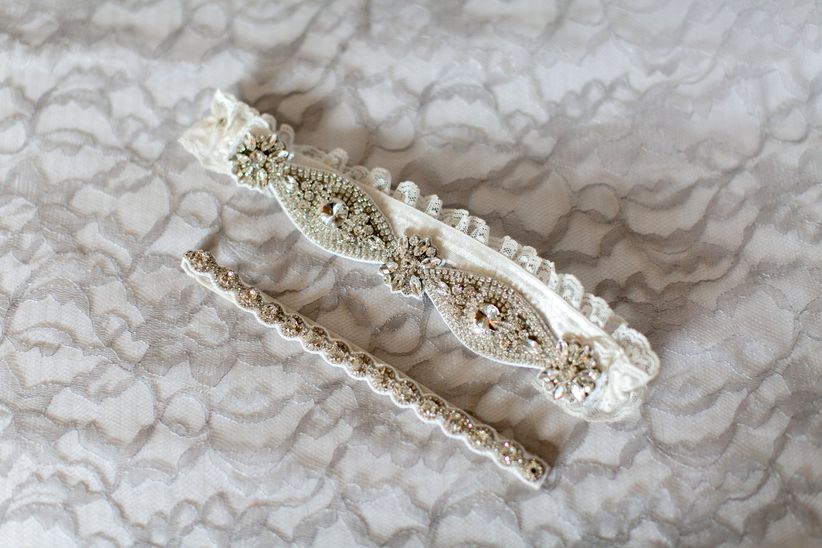 A strapless bra might work for a night on the town, but for your wedding day, it's best to wear more structured underpinnings, if your dress calls for them. This strapless underwire bustier features comfortable boning so you won't spend your reception constantly pulling up your bra.
Seamless undies might be among the most important items on your bridal accessories list, even though no one will see 'em! This underwear style is essential, especially if you're wearing a form-fitting gown, to ensure pantyliner won't be visible under your gown.
Even if you choose more functional undergarments to wear under your gown, you can certainly switch into something lacy for your wedding night. This cheeky set features a crystal "I Do" on the waistband, along with a matching garter.
Garter
Whether or not you're planning on having a garter toss as part of your reception, you may wish to include a garter as one of your bridal accessories for tradition's sake and to have a keepsake from your big day. It can be a nice way to incorporate a family heirloom as your "something old" or to add a splash of color to your look as a "something blue." You can also have some fun with your garter by having it decorated with a favorite sports team's logo, your wedding colors, or a pattern you love.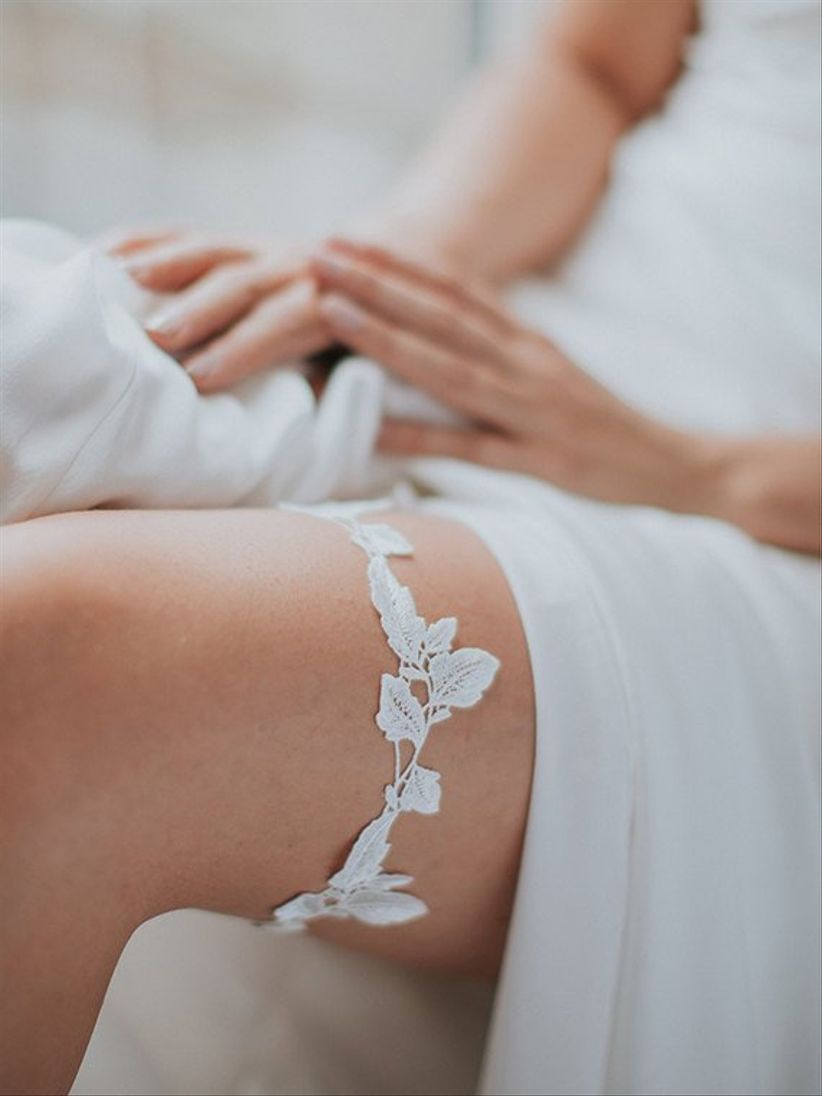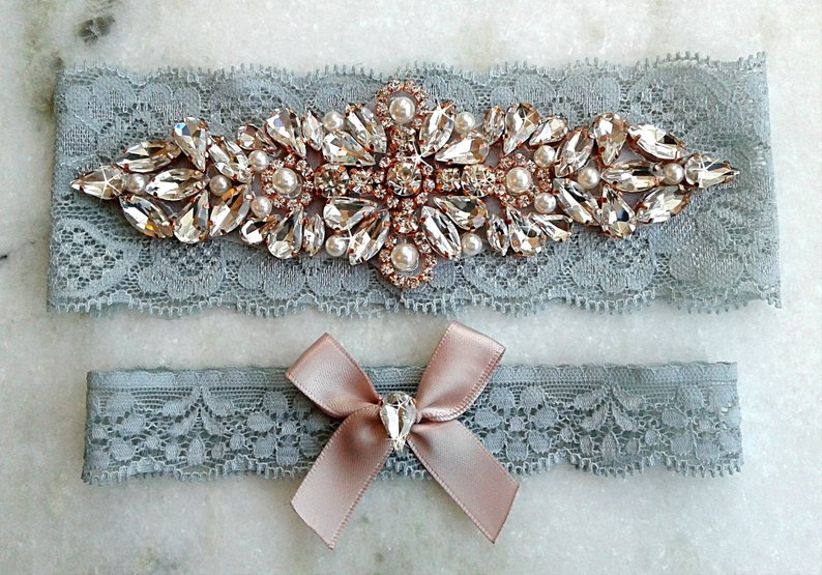 If you think wedding garters are dated, think again. This simple lace garter is ideal for the minimalist, boho bride.
A garter is a perfect opportunity to incorporate a "something blue" into your wedding-day look. This garter set features a vintage-inspired dusty blue hue, and includes a toss garter, should you choose to incorporate that tradition into your reception.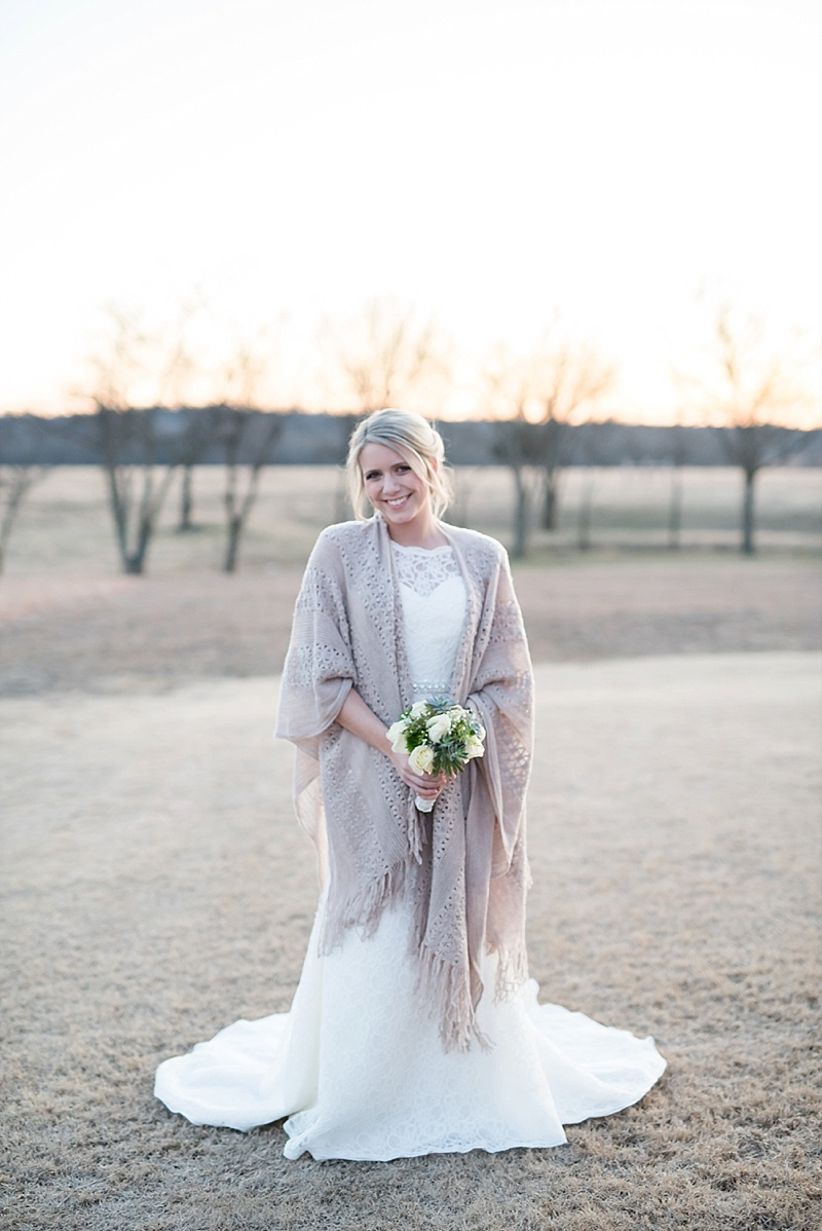 Jacket or Wrap
There are a few reasons why you may want to include a shawl, jacket, wrap, or other form of outerwear on your bridal accessories list. The most obvious would be if you're marrying in the chillier months but still want to take photos outdoors. A (faux) fur wrap or stole would do the trick, and give your look a vintage-inspired touch. Or, if you're looking for a more casual look, we've seen brides don everything from plaid flannel shirts to denim jackets to bright cotton cardigans over their gowns for great photo-ops. Or perhaps you're wearing a strapless gown and would like a bit more coverage for your ceremony, particularly if you're marrying in a house of worship. You might look for a bolero or shawl to match your gown.
Getting married in the wintertime? This faux fur stole will keep you cozy and looking fashionable as you take those outdoor portraits.
Jazz up a simple wedding dress with a sheer tulle cape featuring romantic vine-and-floral appliques.
Lace bolero jackets are among the most traditional and feminine of your coverage options. This lovely bolero is adorned with sequins for just a hint of sparkle—perfect for a ceremony in a house of worship.
For a very traditional, vintage-inspired look, some brides choose to accessorize with gloves. Bridal gloves come in a variety of lengths and styles, from wrist-length to over-the-elbow, in fabrics such as lace, satin, and crochet. Just note that if you are wearing gloves for your ceremony, you'll have to remove them during the ring exchange.
For a vintage-meets-modern bridal accessory, these fingerless lace gloves are so unique. Fingerless gloves are a great option to wear during the ceremony, since you don't have to remove them during the ring exchange.
If you're going for an Audrey Hepburn-esque vibe on your big day, check out these satin gloves edged in lace—truly the epitome of chic.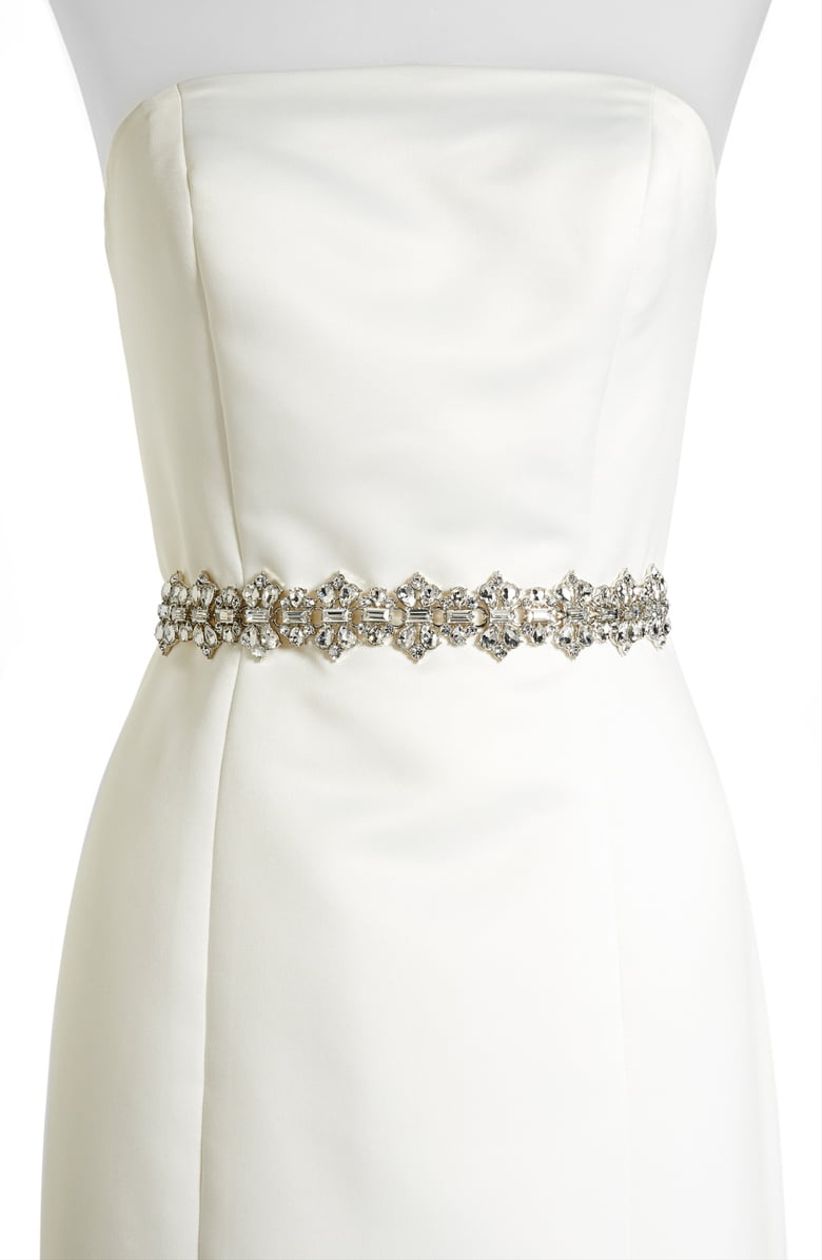 If you're wearing a relatively unadorned gown without much beading or embroidery, you may want to jazz up your bridal look with a sash. Not only do sashes flatter the figure by emphasizing your waist, they also can help infuse your own personal style into your wedding day. From crystal-adorned glam sashes to nature-inspired sashes featuring fabric flowers and leaves, there are lots to choose from.
Wedding dresses featuring lots of beading tend to be expensive. If you're into that sparkly look but don't want to blow your budget, adding a crystal sash to your bridal look is a great option.
For a more boho-chic option, we adore this rose gold rash featuring a leaf-and-vine motif. It's particularly ideal for an outdoor event.
Add a hint of color to your wedding gown with this blush pink floral sash. We love the handmade vibe, and how it accentuates the waist.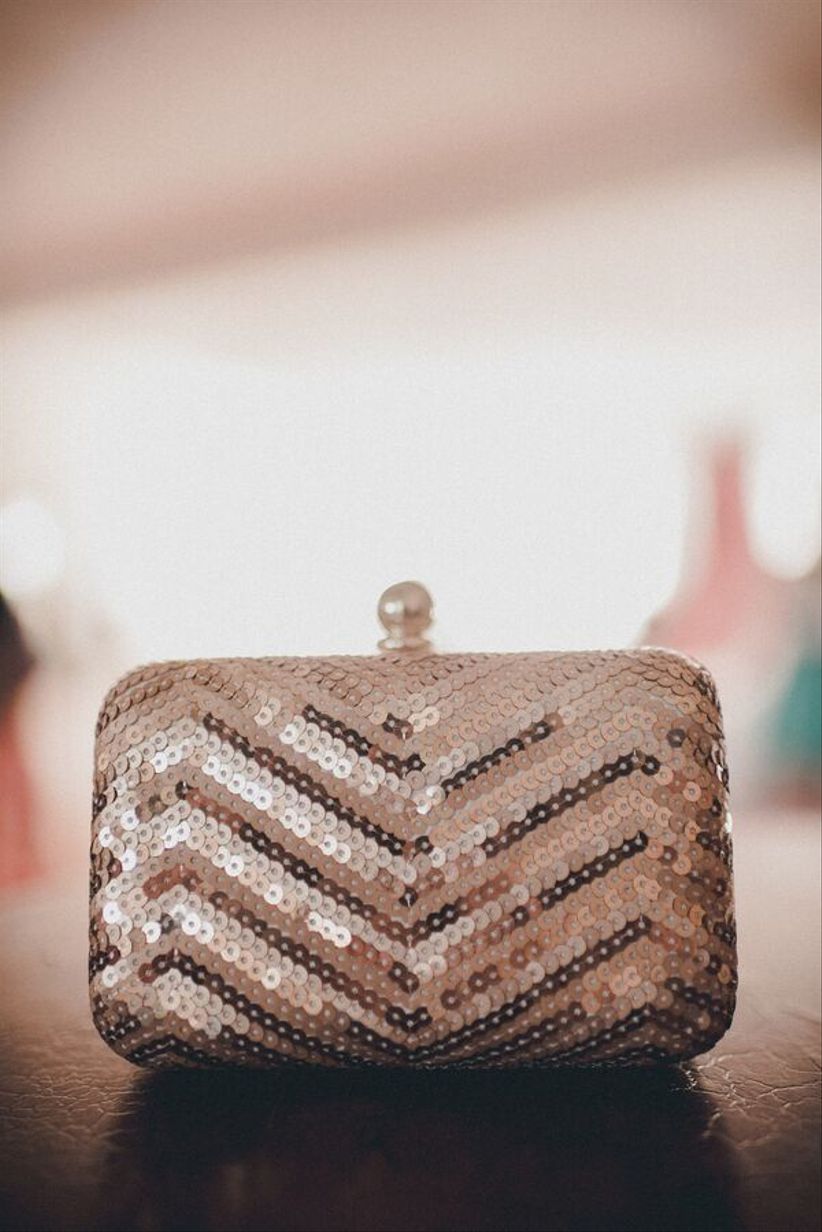 You probably won't want to carry a purse during your wedding—you'll likely be carrying your bouquet for much of the day and you may end up misplacing it. However, if there are certain items that you'd like with you during the reception—makeup for a touch up, breath mints, or tissues—you can certainly put them in a purse or clutch and enlist a bridesmaid or close friend or family member to keep it safe for you.
For a contemporary, minimalist look, a modern clutch with a crystal-adorned clasp is petite and perfect to hold just the essentials.
Show off your new moniker with this acrylic clutch. It's particularly cute to carry this purse while you and your new spouse are making your grand exit.
This sparkly clutch is not only perfect for your wedding day, but also for any pre-wedding events, like your shower or bachelorette. And check out the engagement ring clasp—too cute!